ASTERISK SERVER 2U XR3000  at city communication  store
XR3000 is a heavy-duty, stand-alone, pre-configured, out-of-the-box Asterisk IP PBX
The XR3000 is an Elastix™ Asterisk IP PBX system supporting various combinations of telephony ports. The stand-alone XR3000 base unit may be equipped with up to 32 analog FXS/FXO ports, up to 8 BRI ISDN ports, and up to 4 E1/T1 PRI, 4 T1 CAS, or 4 E1 R2 ports in a single, 19″ 2U chassis. Additional PSTN/analog phone ports can be provided by connecting external Astribank units via the USB2 ports, for a total of up to 672 PSTN/analog phones ports, up to 1000 users and up to 325 concurrent calls (SIP only); 300 for PRI / FXS.
Also available with the XR3000 provided on Disk-on-Key. XR3000 units with an FXS module suppor to provide public address functionality to Asterisk installations, and are also offered with to support a wide array of peripheral devices.
XR3000 comes in a professional industry standard 19" 2U rack-mountable chassis.

Up to 20 Astribank units may be connected to a single XR3000 server using different USB 2.0 ports, or USB 2.0 PCI card.
Architecture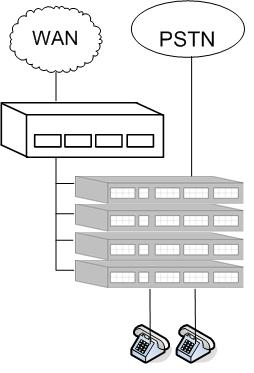 Applications
Complete, heavy duty stand alone IP-PBX for large businesses
Complete telephony system for hotels and condominiums – read more
Features
Various combinations of FXS, FXO, BRI ISDN and PRI, CAS or R2 ports
Supports SIP and IAX2 phones and trunks
From 8 to 32 analog lines/extensions integrated into the unit
Up to 8 BRI ISDN ports
Up to 4 PRI (E1/T1), T1 CAS, or R2 (E1) ports
Up to 20 externa
Concurrent calls: up to 320 (SIP only); up to 300 (PRI + FXS)
Supports auxiliary appliances (door locks, alarm systems). Available for models that feature I/O ports.
FreePBX™ – Easy-to-use Web interface for Asterisk and network setup
Advanced support and maintenance features:

– opens a secured direct SSH tunneling to our support engineers upon user's request. Get our direct support wherever you are, behind firewalls and NATs.

Internet updates

Configuration export / import
Software
| | |
| --- | --- |
| Asterisk version | 11.x (Elastix 2.4x) |
| Linux version | CentOS 5.x |
| GUI | Based on FreePBX |
| Rapid Tunneling™ | Utility providing remote access for product support purposes |
Hardware
| | |
| --- | --- |
| Processor | Intel CPU G850 |
| RAM | 2 GB |
| Hard disk | From 320GB 2.5″ (500GB optional) |
| USB | 4 external USB 2.0 |
| echo cancellation | Voice enhancement & echo cancellation (optional) |
| analog | In case of power outage or an Asterisk malfunction, up to six analog PSTN lines are routed directly to predetermined analog extensions. |
| i/o ports | Input/Output ports for Asterisk peripheral device support (model-specific) |
| rapud pa time | Public Address capability for FXS port(s) (optional and model-specific) |
Telephony
Maximum number of concurrent calls
325 *Depends on codec used
Maximum number of built in analog ports
32 (additional ports with  units)
Number of E1 / T1 ports
4 (up to 120 concurrent PRI/R2/CAS calls)
Maximum telephony modules supported internally
4 (additional ports are supported by adding  units)
Maximum number of telephony ports supported internally
144 (4xE1 PRI/R2/CAS + 24 analog ports)
Supported telephony modules
8 ports FXS

8 port FXS + I/O ports

8 ports FXO

2 ports FXO, 6 ports FXS + I/O ports

6 ports FXO, 2 ports FXS

Up to 4 E1/T1 PRI/R2/CAS ports

Up to 8 BRI ports
Network
| | |
| --- | --- |
| Ethernet port | 2x 10/100/1000 Mb/s |
Maintenance and Support
Power
| | |
| --- | --- |
| Power supply | Internal |
| Voltage | Switching, auto adjust 100/240 Volts, 50/60 Hz |
| Power consumption | 230 Watts (maximum) |
| Built in grounding connection | |
Environment
| | |
| --- | --- |
| Storage temperature | -20° to 70° Celsius (-4°-158° F) |
| Working temperature | 0° to 40° Celsius (32°-104° F) |
| Humidity | 20%-95%, non condensing |
Dimensions and Weight
| | |
| --- | --- |
| Weight | 8 Kg 18Lbs (weight may vary and depends on configuration) |
| Size | 19″ 2U industry standard rack-mountable chassis |
available at city communication store nairobi